Clean Water Filters for African Villagers Project ....I am going back March 2019 to a 2nd Village (maybe 3rd)!



Hi, I am Georgia Evans.
Two years ago I planned to fulfill a dream to go on an African Photo Safari. I wanted to take photos that would help raise awareness about wildlife, habitat loss, poaching etc. However while researching the location and local people I noticed in a magazine that African Massai women were carrying water in buckets on their heads collected from suspect looking water sources (one pondhad hippos and elephants wallowing around in it) and I thought to myself, "How can that be healthy? That has got to be full of disease and filth." Then, I thought about the water filters that I take backpacking and wondered if maybe that wasn't a simple solution for them to have clean water to drink? How hard could that be? Well, one thing led to another.....
With a little research I realized I could get larger community size water filters from Vestergaard to help these people. I found that they do not require batteries, chemicals or electricity to clean large amounts of water for a small village. Perfect for a remote village that does not have a well or plumbing!
Can you imagine drinking this gunky water without a filter??? Me neither. Ick!
So, two years ago I successfully raised money from generous people and did my first water filter project in Tanzania, Africa.
The filters were ordered, shipped and actually arrived on time to my hotel in Tanzania, Africa. I remember feeling nervous because I wasn't sure if they would even be there upon my arrival in Africa or not...I also had to pay a $100 bribe to border guards between Kenya and Tanzania to get these water filters across the border. It was just expected.
Anyway, they made it safely and my local trip guides, Juma & Richard loaded them up on the safari vehicles. Then we all headed into the Serengeti to meet the Massai villagers at their hut village near the Ngorongoro Crater.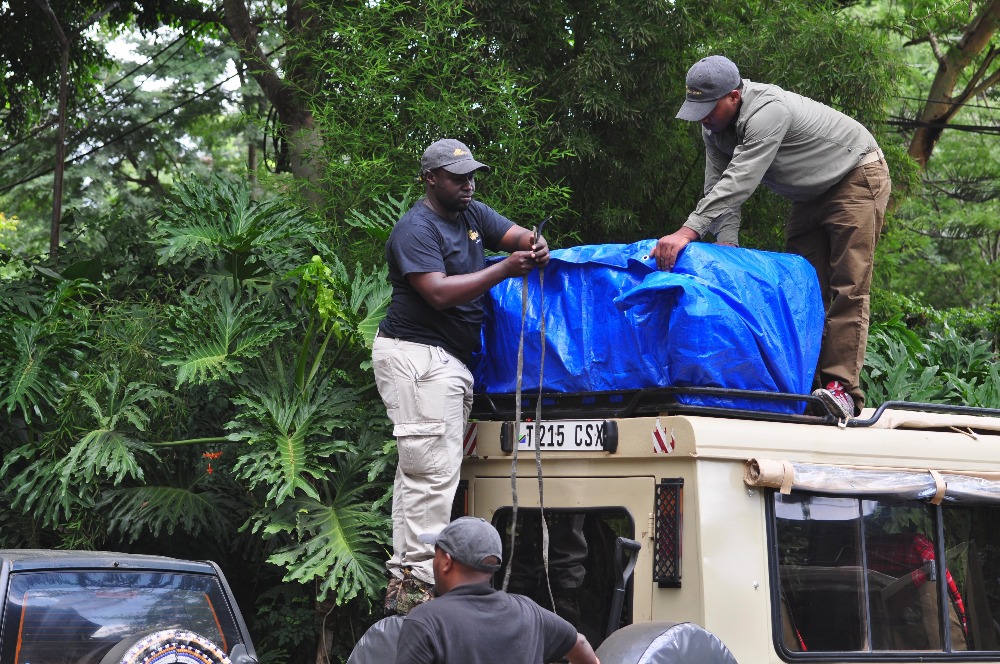 The young chief greeted us with warm enthusiasm and directed us proudly to their little school, see below. It had a lot of hand painted wall decor, so it was obvious this was a special place for this small community.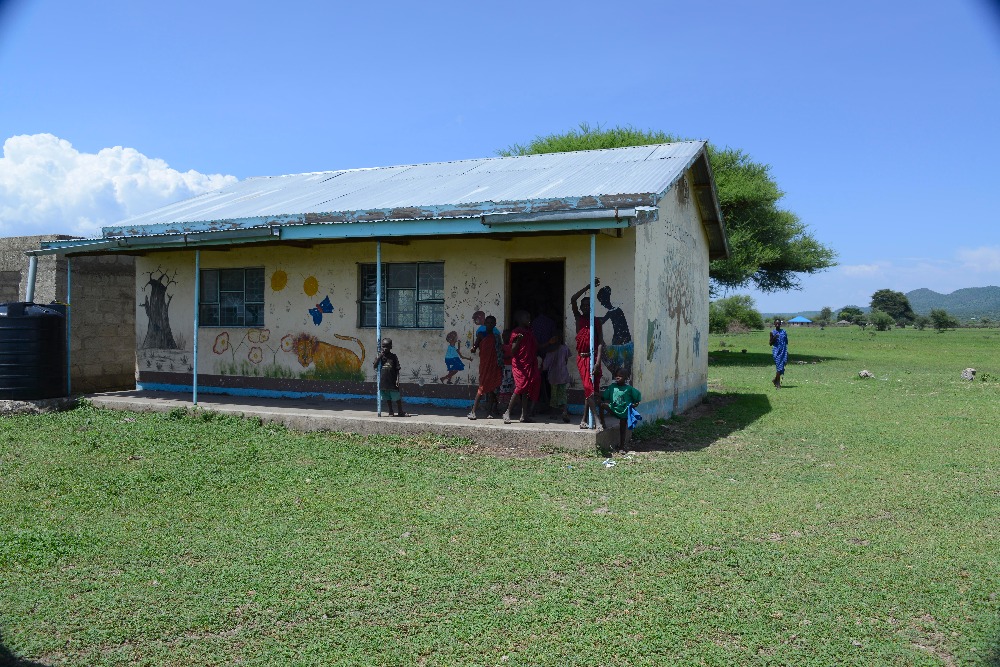 The room had school benches and chairs, some lovely cut window glass decor, a chalk board with a teachers table and that is about all. Lots of chickens roamed about inside and out.
I am assembling one of the water filters.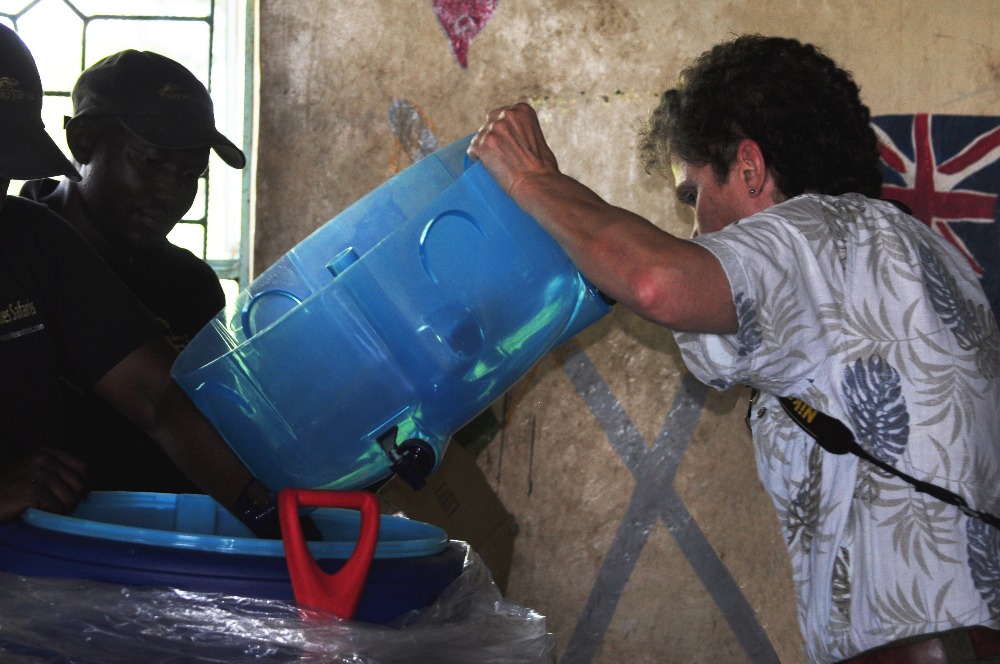 My African guides unloaded and carried one of the two filters into the school for the children. Villagers eagerly pitched in to help as these filters are pretty good sized and cumbersome to carry. Photo above is me unpacking and assembling the community size filter.
Then everyone stood around and watched as I put the filters together. Lots of children of all ages were expectantly seated on their benches in the schoolroom as well.
The Massai chief was very friendly and patiently watched. He listened intently as I tried to explain how to use the filters. It was clear that he felt deeply about helping his people have clean water to drink. Waterborne illness is a constant problem for them.

This is me and the Massai chief inside the little school building.



However, we realized quickly, there was a good bit of a language barrier. This chief only had a few words of English, I did not speak Massai and my local guides only spoke Swahili. It was my mistake to assume that my local African guides would be able to talk with the Massai villagers. So, I was just kicking myself because it had never occurred to me to even ask if I would need a translator when we got to this village. My concern began to grow during this exchange as I was not certain if this chief understood all my words and hand signals or not.

We also tried to discuss the 50 small individual size personal water filter straws I brought that they can carry or hang around their neck forwhen they go out into the Serengeti to gather water, wood and herd their cattle.
Eventually, we both found ourselves laughing a bit at my lame efforts and decided to take the other community sized filter (I brought two) to the center of his village for a demo. His people had gathered around on blankets to sell jewelry to our group and so we put together an actual demonstration with water. Yes, laughter is a universal language!
This proved to be the solution to the problems so when we drove away I felt confident the filters would get good use.

The Massai chief below wears a handsome beaded necklace with matching wrist and ankle bracelets to meet guests.



WHY DO THEY NEED A WATER FILTER? These Massai villagers live in round mud houses with thatched roofs and hard packed dirt floors just as they have done for centuries. They have no running water, plumbing or electricity. Each hut has a small fireplace/hearth in the middle and the sides are walled off to make two rooms for sleeping and one for cooking. It was pretty dark and smoky in the one I was invited into. The mud/dung/grass/hay and stick huts are built completely by the women! I was amazed. Yeah, for women power.

The girls and women spend a good deal of time each day collecting water in buckets that they carry back to their village on their heads from remote streams and water sources often miles away. They also gather wood for cooking and boiling. The presence of a water filter will help them reduce some of the tree cutting and wood gathering because they will not have to boil the water.

I also gave 50 personal size water filters to hang around the neck to the women and girls who were actually slapping each others hands to get one. LOL
The women made all the mud/dung/stick/thatch homes seen in these photos.
It was nothing but fun and a truly unique cultural exchange with these kind people. Even though the filters are simple and require no chemicals, electricity, batteries, etc. (only gravity), it was still a challenging task trying to explain what they needed to know, especially the bilge pump to release dirt, etc.
----------------------------------------------------------------------------------------------------------------------------------------------
SPECS & STUFF ABOUT THE WATER FILTERS by Vestergaard
LifeStraw® Community is a high-volume point-of-use water purifier with built-in safe storage that provides safe drinking water for community, educational and institutional settings. It prevents waterborne disease such as diarrhea, typhoid, cholera, worms, and cryptosporidiosis.
Hollow fibre filtration technology converts contaminated water into safe drinking water

Removes a minimum of 99.9999% of bacteria, 99.999% of viruses and 99.99% of protozoan parasites

Reduces turbidity (muddiness) by filtering particulate matter larger than 0.02 microns

Meets the standard for the "highly protective" category of household water treatment options by the World Health Organization and complies with US EPA guidelines for microbiological water purifiers

Can purify between 70,000 -100,000* litres of water, enough to serve community settings for several years

Chemical-free

Made of durable plastic

Doesn't require electrical power or batteries


While I was in Africa I also fulfilled my childhood dream and went on a wildlife (photo) safari. Wildlife are abundant here from elephants and lions to cheetahs, rhinos, giraffes, wildebeests, gazelles, water buffalo, hippos, and so much more! Was wanting to see a leopard...but hopefully next trip.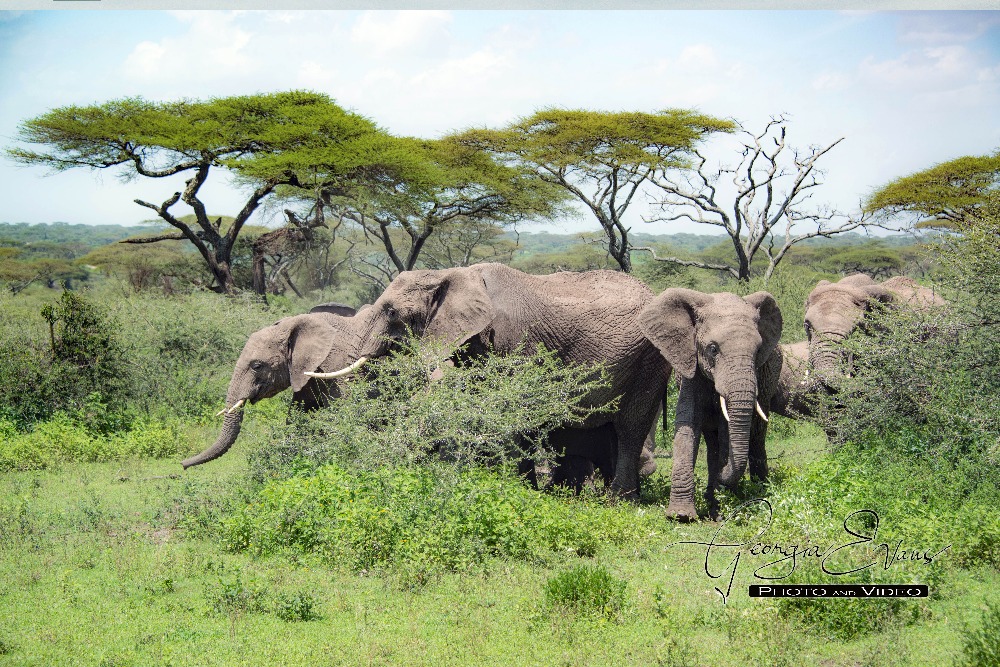 When we were all done with water filters the Massai people did some singing and their famous Massai jump dancing that was fascinating to watch. Some people in our tour group were invited to dance too!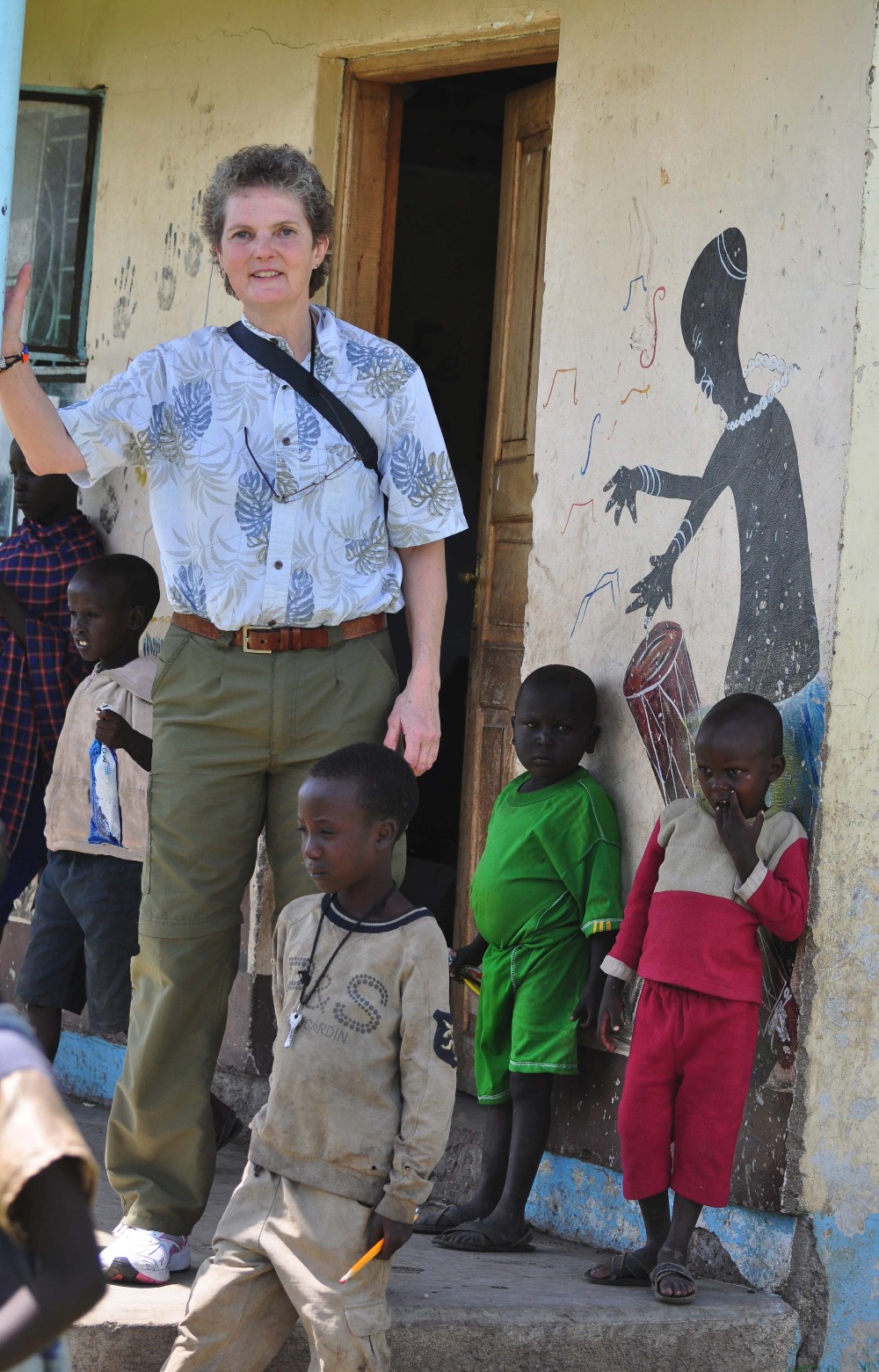 MORE STUFF ABOUT THE WATER FILTERS
LifeStraw® Community in Schools
Many schools in developing countries don't have access to safe drinking water.

LifeStraw® Community is ideal as a safe drinking water component in school-based WASH programs.

Four taps allow children to access water at high volumes.

Can reduce school absenteeism by preventing children from getting waterborne disease.

Children can be strong advocates of safe water and hygiene at home to their parents when they learn it at school.

Availability of clean water can motivate parents to send their children to school.
LifeStraw® Community at Health Facilities
Safe drinking water is vital in health facilities for:

Administering medicines

Hand washing facilities

Safe handling and removal of feces

Personal hygiene

Millions of preventable infections occur every year within the health care environment because of inadequate attention to WASH.

Patients with HIV/AIDS need water treatment that can prevent cryptosporidiosis, which has developed a resistance to chlorine.
LifeStraw® Community in Workplaces
Many workers don't have access to safe drinking water during work hours.

Workers who have access to safe water can experience increased productivity by staying hydrated and remaining healthy.

Workers with access to safe water can decrease their absences from work due to waterborne illnesses.
LifeStraw® Community in Community Dining Spaces
Improves nutrition by preventing loss of vital nutrients due to diarrhea and water-related illness.

Helps prevent stunted growth and malnutrition in children who are particularly vulnerable to waterborne illness.

Helps improve the productivity of school children and workers by reducing absenteeism from sicknesses related to diarrhea and other waterborne diseases.

Contributes to economic development of the community through increased productivity of workers and income saved from avoidance of clinic expenditures.
-------------------------------------------------------------------------------------------------------------------------------------------------------
I learned a lot from that 2016 experience...so, when I do this project again this next March 2019 I am honored to be joined by a Massai chief, who has helped National Geographic better understand the Massai culture. This revered chief will be my Massai/English translator to help better communicate how to use the water filters.
It is my hope these water filters will help make their lives a little easier without undo changes to their culture.
-----------------------------------------------------------------------
WANT TO GO TOO?
I was pretty sure I had died and gone to "Wildlife Photographers Heaven"!.........LOL
NOTE last time I went and came back with all my photos many people asked how they could go too. So, this time I set up a group site where you can experience (help and/or volunteer, if you want to... or just watch) the water filter project as well as go on a wildlife photo safari (non-photographers are welcome of course). It is $4200 plus airfare and includes all lodging, transportation in Africa, airport transfers and almost every meal with some exclusions. Youth with aresponsible adult are allowed. Want to join us?
You can also experience the village (Can participate in water filter project or not) with me (plus go on safari) by signing up (min group size 6-15) below.
Price From $4200 plus airfare to and from Tanzania, Africa (Includes all lodging, transportation, local guides, parks permits and passes & almost every meal)
(see what is included/excluded details below)
​​Limited space available. 6 minimum to go / 15 maximum
Hurry, ­ book now, this volunteer trip will sell out many months ahead of time and we need to make sure the airlines are not full.
50% Deposit now to secure your spot and balance due within 45 days.
Price based on double occupancy as the number of lodge rooms and safari tents are limited (if you are a solo traveler we can match you with a roommate). Single rooms are available only in Arusha and Ngorongoro with single supplement...not available at safari tent camps. Meals and beverages and drinks are as noted in itinerary above. ($50 of your payment goes to help buy water filters for this trip)

Pr
Let me know if you have any questions!
Georgia Evans 446 E 29th St #866, Loveland, CO 80539 970-663-7492 westwindgraphics@aol.com
WAYS TO PAY: Price From $4200 plus airfare to and from Tanzania, Africa (see what is included/excluded details below) with any credit card on secure Paypal BUY NOW link below.
You may also call us with a VISA or MC number. 970-663-7492
A 50% DEPOSIT of $2100 is due to reserve your spot. Balance is due 120 days before departure. See Terms and Conditions.
SCROLL DOWN TO SEE MORE ABOUT lodging and map, terms, what is included and what is not.
This project has been featured in the Loveland Reporter Herald Sunday, April 22, 2018.
What is Included:
An English speaking trip leader and professional photographer.

Experienced local (English speaking) African wildlife guides who know where to go to find the wildlife off the busy tourist paths.

4x4 Air conditioned safari vehicles with open/close tops perfect for photography. Limit of four guests per vehicle.

Transfer to and from airport (unless you are coming in early or leaving a day or two late) Night 1 in hotel in Arusha, dinner is extra. Breakfast next morning included - All beverages and bottled water are extra.

Two nights at lovely Sopa lodge. All meals included, all beverages, bottle water and drinks are extra.

African Massai tribal Water Filter experience at one or two villages depending on how many water filters we can buy/bring.

Entrance and permits for all national parks and wildlife areas we enter

Several locations have swimming pools if you enjoy swimming.

Picnic lunches and bottled water on all game viewing drives included

3 Nights authentic (very comfortable) bush Safari Camp with all inclusive meal plan including bottled water, beverages wine, beer. Hard & specialty drinks are extra. ​

Flight back to Arusha Transfer (drive) to Kilamanjaro International Airport (included if you stay within the trip dates) NOTE: We organize land only trips (unless noted above). Since our guests come from all over the world you will be responsible for obtaining your own flight to and from Kilamanjaro International Airport (JRO).

Detailed list of suggested packing items that I use to get ready.
What is NOT INCLUDED:
Airfare to and from Tanzania, Africa JRO airport. You might try Bookit to get the best rates. This is who we use.

Airport Transfers are included if you stay within the trip dates. However if you arrive early or stay longer then you will need to arrange your own transportation to and from Kilamanjaro Intl Airport (JRO). Taxis are available for hire. The hotel clerk can help arrange this.

Passport that is current and does not expire within 6 months after date of travel. So if your passport expires before Sept 2019 you will need to renew it. Passport that is full and does not have enough pages will need to be renewed.

Alcoholic drinks are extra unless stated above.

Tips for local guides, drivers, and hotel staff. (Reserve $15/day for this)

VISA for entry and exit from Tanzania, Africa. For US Citizens you can get this at the airport when you go through the Port of Entry. The Tourist Visa in Tanzania is currently $100 and is good for 90 days. You can also get it online after you have obtained your flight info and passport info but allow a few weeks for this process. The Tanzania Embassy in Washington DC info is here. VISA: If you are not a US citizen please contact the Tanzanian Embassy for your country for details.

Health Insurance: Please make sure you have health insurance

Immunizations: Just like any other overseas trip you need to check with your doctor to make sure you are current and up to date on all routine vaccinations. Ask your doctor what is needed for this Tanzania. Some of these vaccines require more than one dose, or take time to become effective. It is always best to seek advice from your doctor on immunization well in advance, if possible around 6 weeks before departure.

Travel Insurance: We highly recommend insurance coverage for cancellation and unexpected emergencies. This should be taken at or near the time you book the trip. We also recommend supplemental travel insurance to protect yourself in case of unplanned medical emergencies or evacuation and property loss or damage. I do not sell insurance but you might try Travel Guard, this is who I use.
I will also require several different standard waivers of liability available after booking.
-------------------------------------------------------------------------------------------------------------------------------------------
If you can't go but still want to help villagers have clean drinking water
DONATIONS FOR WATER FILTERS ACCEPTED HERE
--------------------------------------------------------------------------------------------------------------------------------------------
WHY DID I DO THIS?
People have asked me how and why I came up with this unusual project in the first place?
Well, I grew up with a lot of amazing extended people in my life, coaches, teaches, parents of friends, etc. who obviously took time out of their very busy lives to help and support me. These generous people were the best examples of giving back....and so...by their example, it is important to me to give back to the world, even just a little....one village at a time.
--------------------------------------------------------------------------------------------------------------------------------------------
WHAT PEOPLE ARE SAYING:
Roxie Ellis, Ellis Ranch and Wedding Center, Loveland, CO www.lovelandweddingsite.com
"I have known Georgia Evans for over 20 years as a friend and the Ellis Ranch has done business withWestwind Graphics. When Georgia posted via Facebook that she was looking for donations to help children in Africa with providing clean water filters it was definitely a yes for the Ellis Ranch. Knowing Georgia was going to hand deliver the filters made it a win win. People like Georgia are what makes Loveland a great community."
--------------------------
Melanie Lee, Oviedo, Florida
"A gift that makes a difference!"
---------------------------
Nathalie Villeneuve www.PauseandPaint.com Loveland, CO
"I hope you get to distribute these wonderful gifts to many women and children. What a great way to help!"
---------------------------
Linda Akey www.ONEHOPEWine.com
"I envision all those people can drink safe water and be healthy and happy!"
-----------------------------
Jonelle Davis, www.JonelleDavisIntuitive.com Fort Collins, CO
"Thank you for doing this, Georgia! You are an Angel on earth."
----------------------------
Sarah Scott, retired Richardson High School, TX Teacher
"Georgia is a reliable teacher-guide-photographer. Bet this will be a great experience.."
---------------------------
JoAnn McDermott, McDermott Enterprises, Lakewood, CO
"That's so cool - so awesome you're doing this!"
-------------------------------
Stacia Fuller, www.myfavoritepainters.net Loveland, CO "Amazing!"
-------------------------------
Marilyn Foster, Fort Collins, CO "Wow, that's awesome!"
-------------------------
Kim Anderson Sherrod, TX
"What a life changing gift , Georgia!"
This is one of the safari tent camps (3 nights)...has a little porch, floor, beds, toilet, bathroom and bucket showers and is quite comfortable in the Serengeti. There is a large meal tent with buffet style meals, very good cooks and very good food!
We will also be staying at this beautiful lodge for a few nights in Ngorongoro. Love this place! Photo courtesy Sopa Lodge.
http://www.WestwindGraphics.com and http://www.WestwindOutdoors.com
WANT TO BECOME A SPONSOR? Contact Georgia at westwindgraphics@aol.com or call 970-663-7492